Power BI trainings at SBM Offshore (Mockup!)
Via this page you can order your Power BI training courses. Before you can do this, please review the SBM Offshore training guidelines here.
Power BI allows you to turn your data into insight via interactive dashboards. To learn the required skills please follow below Learning Track (click on image for larger version):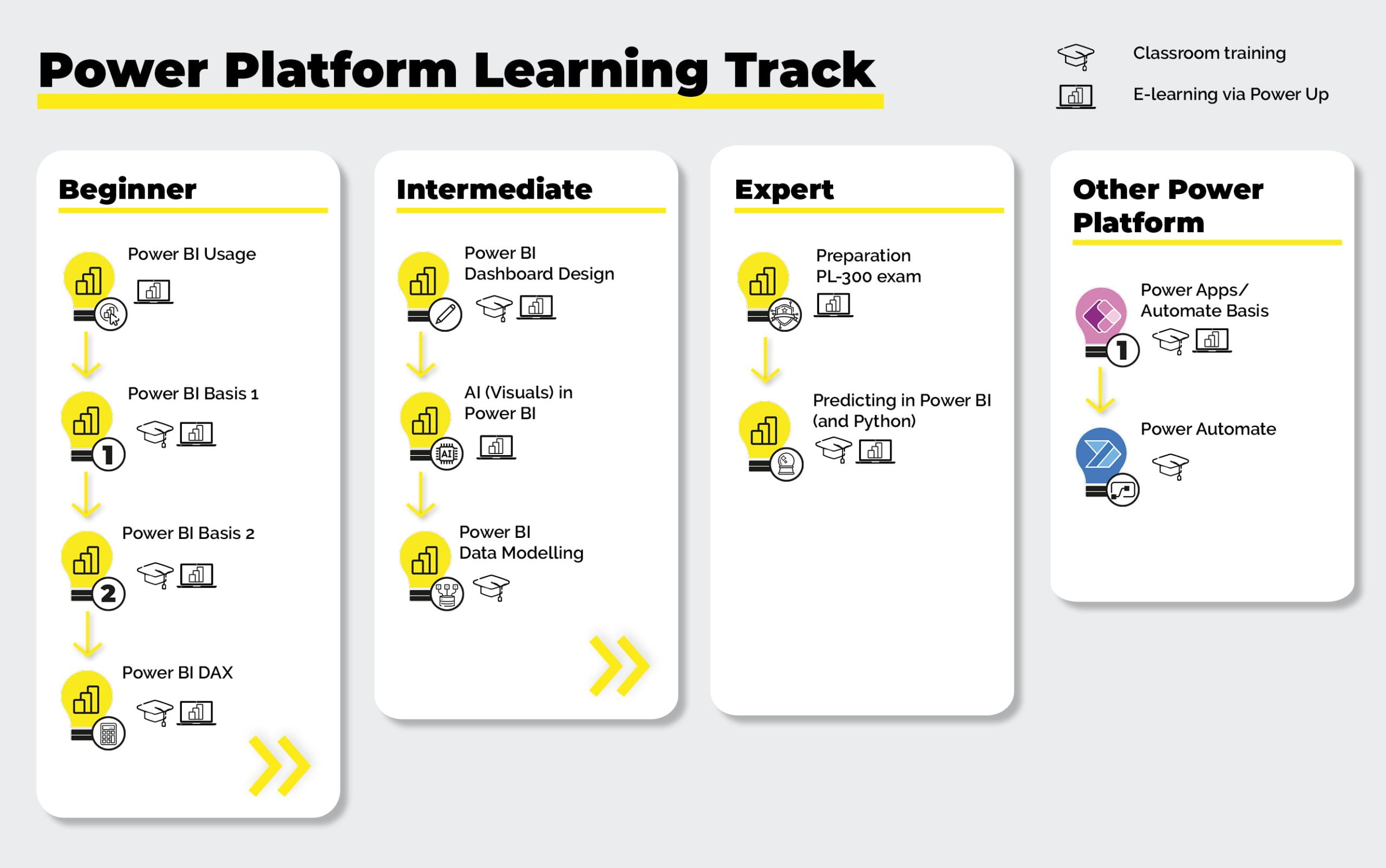 There are 2 ways for you to follow the trainings:
Classroom
Via Teams you will receive full day training from an experienced trainer. Of course you can ask all your questions. In between, the trainer gives group assignments to apply what he has learned directly. After that, the answers are discussed. Group is 5-8 participants. Training are given on different times to cater all time zones. And have enough breaks to process what you learned. After choosing the training in the form on the right, you can then pick a date/time that suits you best. With the classroom training you will receive a participation certificate. The cost per classroom training is: EUR 275.00.
Online (via learning environment Power Up): You get direct access to the training (s) and start and stop the training whenever you want. The training consists of short videos of 2-5 minutes, interspersed with assignments that you can do independently. You will continue to have access to your training, even after completion. In addition to classroom training, some training courses also have an additional Final Exam in which all material can be practiced again. With the online training courses you will receive a certificate with a score. The costs per online training are: EUR 200.00.
Power Up Full Access: This 12 month subscription will give you access to all the trainings in the Learning Path. But also all new ones. Every month 1 new training is added.
How the registation form works:
First choose in which training form(s) you want to follow the training courses. With each classroom training that you check, you can then choose the date on which you want to follow the training. Pay attention to the correct order in the Learning Path. So first do the Basic 1 training and then the Basic 2 training.
At any time you can return here and book additional courses.
If you have any questions or have you not received a confirmation from us within 2 working days? Mail us on vraag@get-responsive.com.
Requirements
Training  requires a recent version of Power BI Desktop
For some components, a Power BI Pro license is recommended or required
Note: Power BI does not work on Apple! (this requires solution as Parallels)
Order your Power Platform training(s) here:
What happens after your registration?
Classroom:
Within 2 working days you will receive  the confirmation of your registration(s) by e-mail
One week before the training date you will receive the Teams links, the material and any further details
After the training you will receive all slides of the training
Power Up e-learning:
Within 2 working days you will receive  the login information of Power Up by e-mail
After logging in you will immediately see the training (s) you have ordered
Keep the correct order of the training as indicated in the Learning Track
If you have any questions about the registration, please contact us at:
Phone: 06 1485 6841
E-mail: Vraag@Get-Responsive.com